how to kiss
the french kiss French kissing involves tongue contact, and there's really no right or wrong way to do it. But there certainly are plenty of preferences! You'll find out exactly what boys want from a girl and what girls want from a boy on our new DVD, which contains more than forty minutes of instruction on how to french kiss.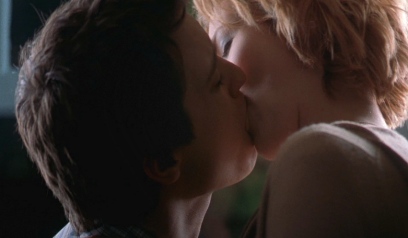 The problem with many films, such as Try Seventeen (also known as All I Want) (2002), starring Mandy Moore and Elijah Wood, is that their french kisses really only show you the exterior of the mouth. How can you tell what's going on inside? No way to do it! This is a fine french kiss, but what are they actually doing with their tongues? You've got to look at movies like Cry Baby (1990) or Two Girls and a Guy (1997) to see the tongues in action. For example in Cry Baby, Johnny Depp can actually be seen sucking the tongue of Amy Locane, and in Two Girls and a Guy, Robert Downey Jr. can actually be seen flicking tongues with Heather Graham. And yet even in these films the french kisses are unnatural, filmed in an exterior manner (that is, with the tongues outside the mouth), so that the audience can see what the tongues are doing. The only movie that really shows a french kiss is The Art of Kissing (2001) because it takes you right inside the mouth. Yes, the camera goes inside a mouth so that you can see a perfectly natural french kiss from the inside. In fact, when you see it you'll be right in there too, along with both tongues, and you'll see everything the tongues can do in a 100 percent natural french kiss, the kind of kiss that you yourself will be likely to do. Sure, you can do a french kiss like Johnny Depp in Cry Baby or Robert Downey Jr. in Two Girls and a Guy, but how often are you going to be doing your french kisses with your tongue and your partner's tongue completely outside your mouths? Not too likely. (Photo copyright Millennium Films.)
How to french kiss
William Cane's new
DVD
teaches you all you need to know about the most exciting kiss there is. Says Boston Magazine, it "graphically demonstrates the many ways to smooch." Says the Boston Globe, this "PG-rated video" was made by a true "kissing scholar."
Some techniques you'll learn on the DVD:
1. Flicker the tips of your tongues.
2. Rotate tongues in circular motions.
3. Play chase back & forth.
4. Suck your partner's tongue.
5. Gently bite their tongue.
The DVD teaches french kissing based on responses from more than one hundred thousand people in twenty-three countries and across the United States. You'll see real teens kissing and then they'll talk to you right from the screen, telling you what they wish their partner would do so that YOU know exactly how YOU should move your tongue.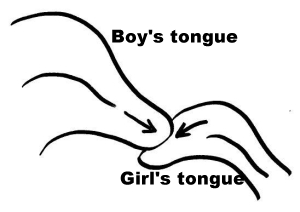 Here's a typical action you'll see in french kissing. The first drawing shows the boy's tongue pushing deep into the mouth of his partner. Notice the girl's tongue bending and moving under his. The second drawing shows the girl's tongue becoming more active and playing chase, following the boy's tongue back into his mouth. But even these incredible diagrams don't tell the whole story! For that, you need the DVD.